Concord Pavilion | Concord, California
2Cellos, celebrate 10 years, at Concord Pavilion on Saturday 16th April 2022. Grab your tickets now for a concert of a lifetime, its part Pop, Rock, and Classical with a twist, as their signature style breaks down the boundaries between all genres. The viral duo 2CELLOS have taken the simple cello to unimagined, unbelievable heights. The pair have released an online compilation covering the best of 2CELLOS over the last ten years that they will be playing live, on stage, as well as some of their upcoming, brand-new album, Dedicated, due out in September this year.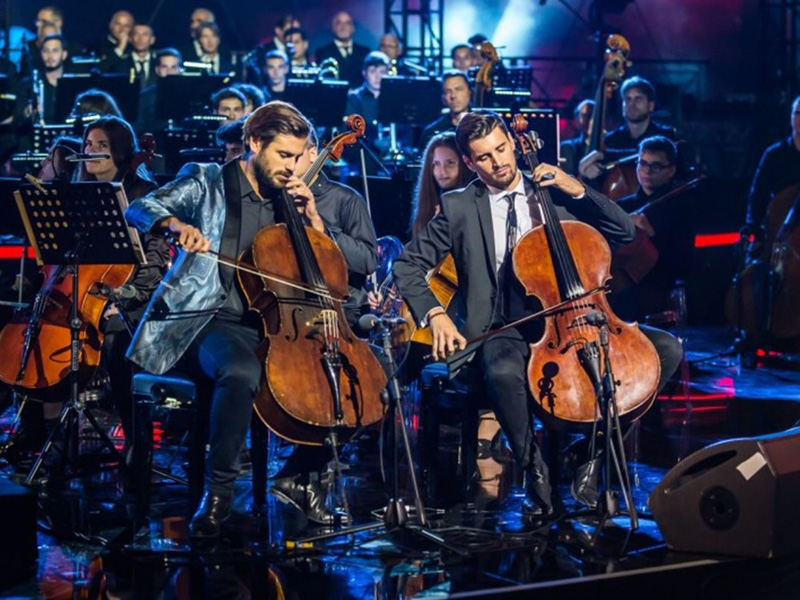 Luka Šulić and Stjepan Hauser have since created a name for themselves with their electric and dynamic playing style. Amassing a staggering 1.4 billion YouTube views, 5.8 million YouTube subscribers, 1 billion streams, and have sold nearly 1 million concert tickets. They first reached video viral fame on YouTube with their 2011 rendition of Michael Jackson's "Smooth Criminal," now sitting at 37 million views, off of their debut eponymous album, which also includes covers of songs by U2, Guns N' Roses, Nine Inch Nails, Sting, Coldplay, Nirvana, Muse, and Kings of Leon. But this pales in comparison to their rendition of AC/DC's "Thunderstruck" which has racked up an absolutely staggering 200 million video views on YouTube to date, and if you are one of the few that haven't seen it yet, then definitely go watch it!
2CELLOS have released five albums, with a sixth, brand-new album, Dedicated, due out in September 2021. Their most commercially successful album, Celloverse, debuted at No. 1 on Billboard's Classical and Classical Crossover charts and made the Billboard Top 200. Then the "Game of Thrones Medley," recorded with the London Symphony Orchestra, became their third No. 1 hit on the Classical chart.
"I can't remember seeing anything as exciting as them since I saw Jimi Hendrix live back in the '60s." – Elton John