Concord Pavilion | Concord, California
Are you ready to see a MASSIVE collection of MASSIVE arttists live in an epic one-day festival!?! Then get ready for the experience of a lifetime at the Concord Pavilion on Sunday 11th June 2017!! We're proud to host the Spirit West Coast Festival, this year featuring a dizzying lineup including TobyMac, For King and Country, Crowder, Mac Powell and more!! Don't miss your chance to attend this stellar show of talent – click the "Buy Tickets" button to get yours, but hurry, because they're going to disappear fast!!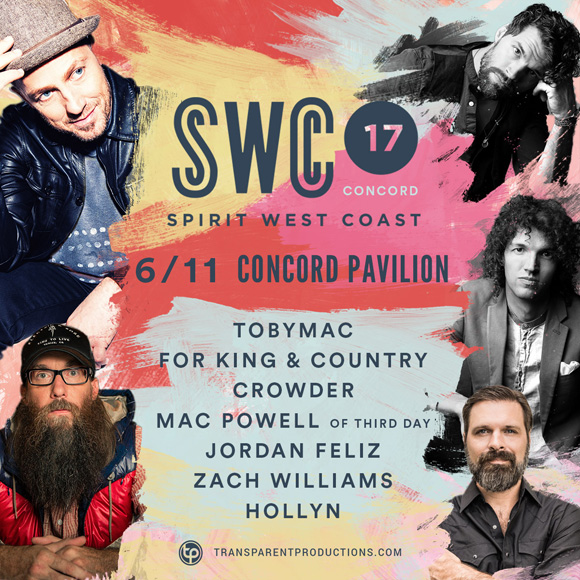 One of the most renowned Christian music festivals, the Spirit West Coast festival aims to bring people an unbelievable spiritual experience combining music with the message of Christ. Single-day festivals featuring a multitude of different artists, they're presented in three cities across California: Del Mar (San Diego) Ontario (Inland Empire So Calif) and of course the Bay Area's Concord!!
For our show the lineup is simply unbeatable, and the diversity of talent is simply immense, featuring a multitude of genres from hip-hop to folk, and every arrangement from solo artists, duos and full bands. Headlining the show is genre-bending rapper TobyMac, only the third Christian artist to debut at number 1 on the Billboard 200 with his massive, electronic pounding hit "Eye On It," followed by a stream of worldwide hits!! Other major acts include For King and Country, a pop-rock duo cited by Billboard as one of 2012's "New Artists To Watch," and described by American Songwriter as "Australia's answer to Coldplay," and Crowder, a folktronica musician and firm favorite on the Christian Songs chart.
One thing binds all these artists together; they're all using the power of music to make the world a better place. Get in there and be part of the experience!!