Concord Pavilion | Concord, California
On Sunday, August 20, 2023, Boy George and The Culture Club will take the Concord Pavilion to new heights of fun and entertainment with their innovative blend of theatrics, costuming, and 80s nostalgia. The event is a stop on "The Letting It Go Show" tour, which will take these celebrities to 25 cities across the nation. The headliners will be joined by very special guests Howard Jones and Berlin, and the audience can expect to hear all of the group's greatest hits performed in spectacular fashion as they take advantage of the venue's fantastic services and amenities. To guarantee your attendance, please purchase your tickets in advance by clicking the "GET TICKETS" button above. Purchasing tickets has never been more secure or convenient than on this site, so there is no reason to delay. Get it done now and be ready for an evening of non-stop entertainment.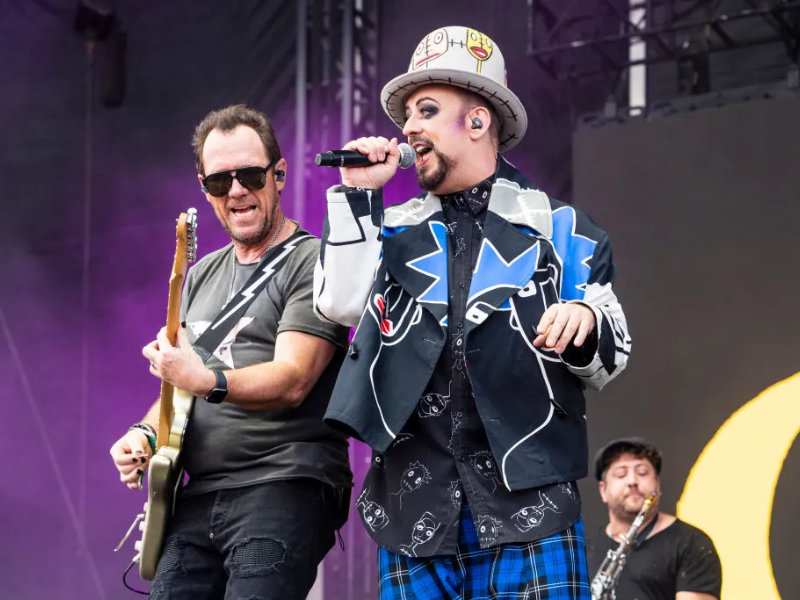 Boy George is the lead singer of the Culture Club, which was formed in 1981. Their unique music was a blend of pop, reggae, and soul, which in the 1980s was revolutionary. In addition, the lead singer brought with him a flamboyant style that, combined with their infectious melodies, captured the hearts and minds of fans around the world. Interestingly, they were one of the first multiracial bands to enjoy commercial success.
During the decade when they first came out, music was seeing huge innovation and change, with new electronic equipment bringing the cost of music production down as well as the advent of MTV, which really helped bring their hits like "Do You Really Want to Hurt Me?" "Church of the Poison Mind" and "Karma Chameleon" to the masses and forever cement their status as one of the most coveted bands of the era. To this day, you can still find new and old fans alike singing along at their sold out shows.
They've been nominated for a Grammy twice, and one of them even won Best New Artist, all thanks to their incredible talent. They have been so successful that they have been honored with multiple Brit Awards for categories such as "Best British Group" and "Best British Single."
With over 40 years in the industry, Culture Club has made six studio albums, which include "Kissing to Be Clever" (1982), "Colour by Numbers" (1983), "Waking Up with the House on Fire" (1984), "From Luxury to Heartache" (1986), "Don't Mind If I Do" (1999), and "Life" (2018). From these, the band has enjoyed over 50 million record sales and a very deep impact on pop culture around the world.
A tour with these guys will leave you feeling euphoric and inspired, as the band's energy and charisma on stage are infectious, making for an unforgettable concert experience. Nobody will want to miss out on this experience, so tickets will sell out very quickly. Be sure to grab yours right here and now before they sell out.
Culture Club are Boy George as the lead vocalist, Roy Hay on guitar and keyboards, Mikey Craig on bass guitar, and Jon Moss on drums and percussion.