Concord Pavilion | Concord, California
Concord Pavilion in Concord, California presents three powerhouses of country music, live for one special night, Brad Paisley, Jordan Davis & Gabby Barrett at Concord Pavilion on Friday May 15th 2020. Buy your tickets now and get ready to have your country boots rocked all night long!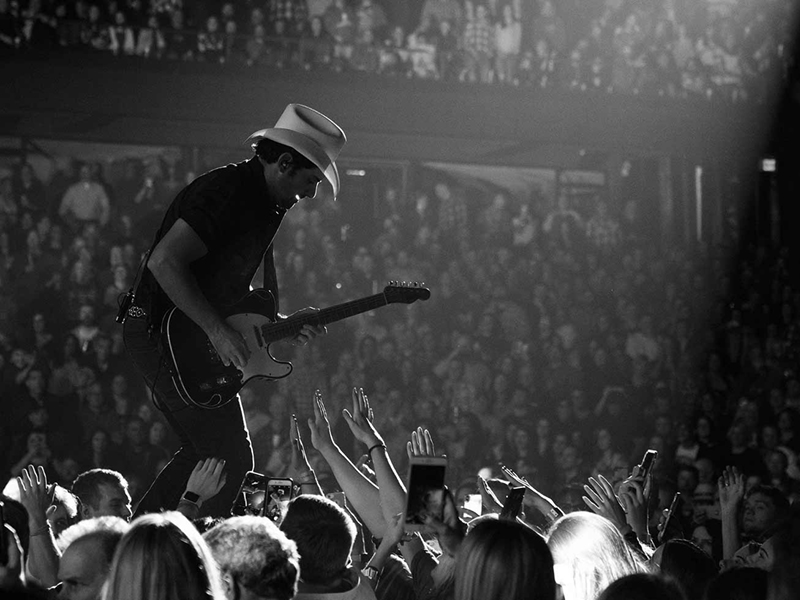 Brad Paisley is a critically acclaimed singer, songwriter, guitarist and entertainer whose talents have earned him numerous awards, including three GRAMMYs, two American Music Awards, 15 Academy of Country Music Awards and 14 Country Music Association Awards, including Entertainer of the Year, among many others. Paisley has written 21 of his 24 #1 hits including his new single "My Miracle" in March 2019 off of his upcoming new studio album. "I can be a little ornery when it comes to writing love songs. I don't typically put it all out there, but in this one I did. This is the most powerful statement I think I can make," says Paisley. "The one I wrote it for, she is my worst critic typically, but in this case, I think I got it right."
Jordan Davis songs are so musically engaging that they easily attract attention. But they're also deep enough to hold a listener through repeated exposure. Some of that is accomplished through the sense of physical place woven into his stories. From the street performers and moss hanging from the trees establishing the humid heartbreak of "Leaving New Orleans," to the painted white lines and late-night security cop transporting the listener to a concrete ballroom in "Slow Dance In A Parking Lot." Jordan Davis has a unique ability to create a sense of place in his songs with his knack for relentless hooks and subtly smart lyrics.
Finalist on ABC's American Idol in 2018, powerhouse Gabby Barrett is tapped as a "Highway Find" by SiriusXM's "The Highway," one of Rolling Stone Country's "10 Best Country and Americana Songs To Hear Now." her debut single "I Hope" was certified Gold for half a million units in sales and streams and claimed the #1 spot on SiriusXM's"The Highway" Hot 30 Countdown and on Radio Disney's Country Top 50 chart, solidifying Barrett as "a voice you must hear" according to The Pittsburgh Tribune.