Concord Pavilion | Concord, California
There's something in the air that seems to be coming from the windy city…and the sea breeze is bringing in some good vibrations to this side of town… Brace yourselves for a staggering live performance from rock and roll's most illustrious heroes. Chicago and Brian Wilson along with Al Jardine & Blondie Chaplin are slated to conquer the stage of the Concord Pavilion on Saturday 11th June 2022. It's a double headliner tour that would truly bring the house down timeless classics such as Chicago's "Make Me Smile," "25 or 6 to 4," "Saturday In The Park," "Does Anybody Really Know What Time It Is?", "If You Leave Me Now", playing back-to-back-to-back with Brian Wilson's immortal greats such as "Good Vibrations", "Wouldn't It Be Nice", God Only Knows", "Surfin' USA", and many more! Expect double portions of rock-solid fandoms scouring and scoring tickets to the show. The trick is to be quick by just clicking on the 'Get Tickets' link on this site. Now you're off to a fast start, book your tickets now!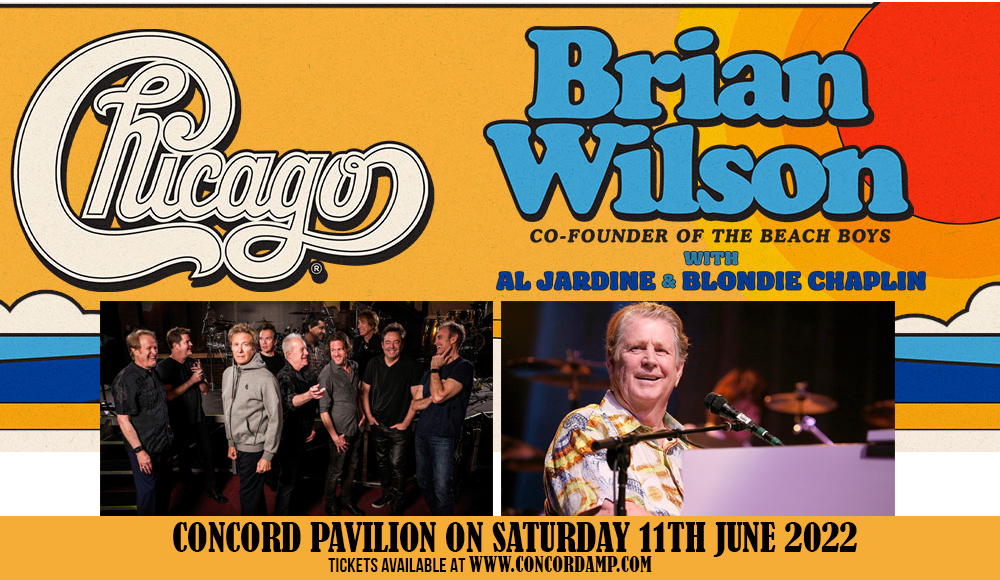 Chicago has cemented their legacy as the legendary rock and roll band with horns. Their ingenuity in merging elements of classical music, jazz, R&B, and pop music, has resulted in a rich and enduring discography of songs, making them the first American rock band to chart Top 40 albums in six consecutive decades; and ranked at #4 among the highest charting American bands in the chart's history, in Billboard Magazine's recent Top Bands And Duos. The band has put its name on the global map, and Chicago permanently etched their name in music history as they became recipients of lifetime achievements awards which include two Grammys, two American Music Awards, Founding Artists of the John F. Kennedy Center for the Performing Arts, a star on the Hollywood Walk of Fame, a Chicago street dedicated in their honor, and keys to and proclamations from an impressive list of US cities.
The name Brian Wilson commands respect and reverence in the music industry, as well as love, affection, loyalty from his and Beach Boys fans. His musical genius and exceptional aptitude and innovative techniques in songwriting, recording, and record production have become an inspiration and a benchmark on how a great record sounds like. Brian Wilson is the mastermind behind the monumental album "Pet Sounds", which is still considered as one of the greatest albums ever made. Brian Wilson is regarded as an important figure and has been honored with inductions into the Rock and Roll Hall of Fame (as a member of the Beach Boys) the Songwriters Hall of Fame, two Grammy Awards, and the Ivor Novello award.
It's been over forty years since "Beachago" happened — a historical concert where Chicago and The Beach Boys last shared the stage. History is about to repeat itself, and for that, this concert is a must-see, a must-experience! Chicago – The Band, Brian Wilson, Al Jardine & Blondie Chaplin at Concord Pavilion on Saturday 11th June 2022 — lock those tickets in right here, right now!