Concord Pavilion | Concord, California
Move over men…boys on the side, please. Make way was the women are bound to "Femme It Forward" ! This is touted as the occasion to celebrate "the depth, power, and talent of women in music and entertainment." This year, Femme It Forward assembles yet another gurl power line-up of today's hottest R&B, soul, and hip-hop music namely, Xscape, Keyshia Cole, Tweet & Teedra Moses, and many more! All of them shall be part of this grand inspiring and women empowering event to take place at the Concord Pavilion on Saturday 2nd May 2020. C'mon soul sistahs, don't miss one of a kind celebration of womanhood through songs and stories. Book your tickets now!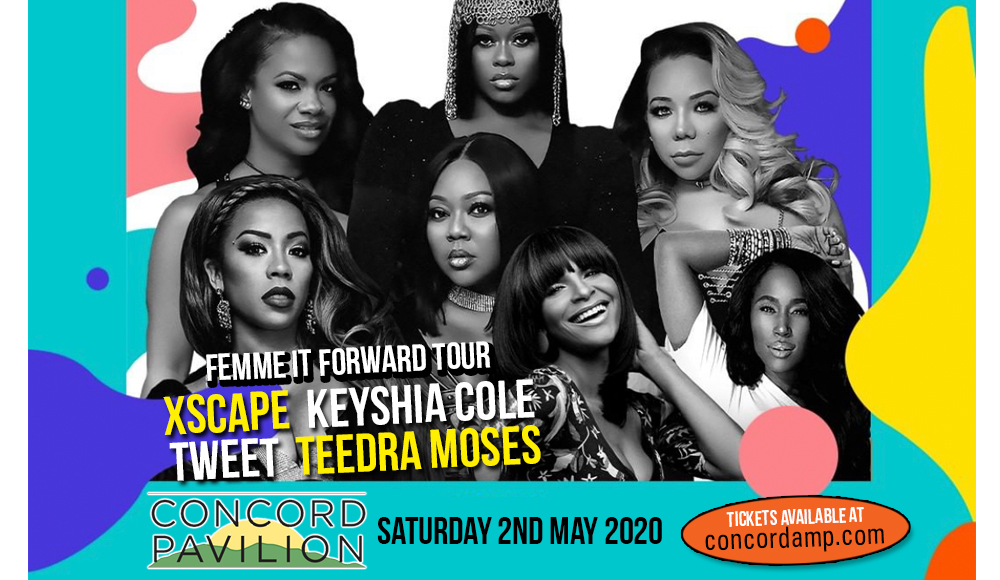 Femme It Forward was launched in 2019 with the aim of shining a spotlight on the glorious achievements of female artists and esteemed women figures in various industry sectors.
Femme It Forward president Heather Lowery, expressed gratefulness on how this event impacted society, women in particular.
"The launch of Femme It Forward exceeded any expectations that we had as an organization, the amount of love and support from our community was powerful…."Recruiting a team of powerhouses going into this new decade was a priority of mine and as a female CEO, I'm incredibly passionate about working with other like-minded women to further celebrate the depth, talent, and power we possess in this industry."
Lowery further adds, "Since our inception in 2017, Live Nation Urban continues to create opportunities for emerging and established urban artists—both on the stage and behind the scenes… "This past year has been an exceptional one for women in music and entertainment, and with the incredible contributions of women, it is fitting that we honor the future of music and its continued steps on the path to inclusion."
Female artists also share in the excitement in being part of this groundbreaking event.
"Women have always played a pivotal role in the entertainment industry, whether we're behind the scenes or center stage; but it's rare that those stories make it to the forefront," said Grammy Award-winning rapper Lil' Kim in a release. "Femme It Forward is a game-changer! I'm excited and appreciative to be a part of this major movement."
#FemmeItForward. Spread the word, be one with the movement!