Concord Pavilion | Concord, California
Keep the faith and rock on! This is the event where the forces of praise and worship music, pop, and rock music come together and are brought to the fore by Christian alternative rock duo For King and Country. This two-time Grammy award-winning artist is geared to dock at the at Concord Pavilion on Friday 7th June 2019, for their "Burn the Ships | World Tour 2019". This will be a gathering of faithful believers, passionate rockers, and music fans all rolled into one. Known for their ebullient showmanship and the refreshing vibe of their music, For King and Country is definitely a crowd drawer. Catch the wave of excitement; book your tickets early before they run out!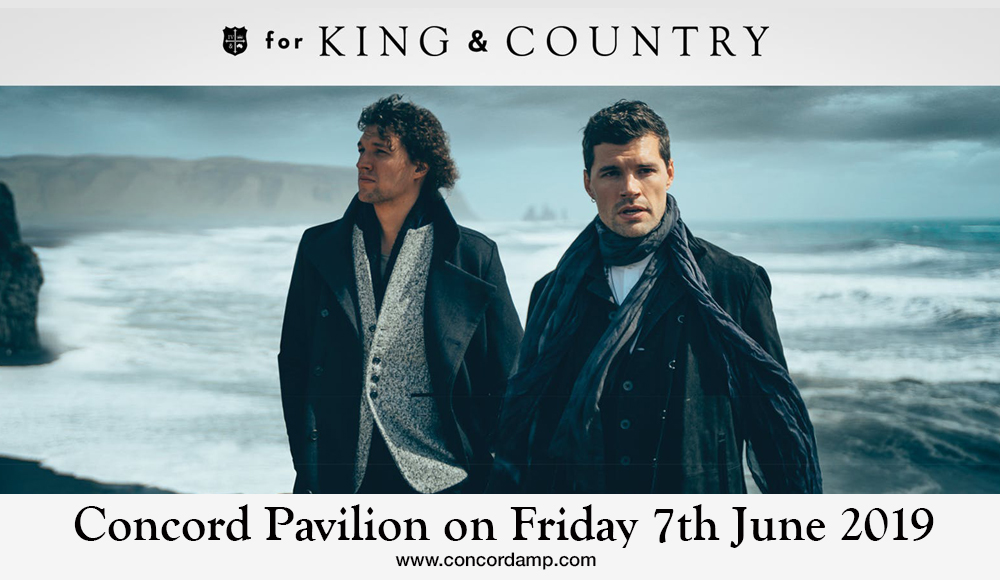 For King and Country may be classified as a Christian rock band, but as of late, their latest album "Burn the Ships" made an astonishing debut as it landed at No. 7 on the all-genre Billboard 200 Albums chart — their first ever top 10 album. The album's lead single "Joy" took the No. 30 position on the Hot AC Chart. With this, the band has proven that their music is universal and has broken the genre barriers, so to speak.
Sometime last year, the sibling duo composed of Joel and Luke Smallbone, thought of bringing the album to a live audience. They began testing the waters for live gigs. Joel explains, "This autumn, Luke and I took a chance and went into small theatres across the United States with the hope of introducing our audience to the new album in a personal and intimate way. It was such a euphoric experience for us and was received so well by you that we became determined to carry it on this spring as part of our "Burn the Ships | World Tour 2019".
Australian-born but Nashville-based brothers Joel and Luke Smallbone come from a musically-inclined family. Their older sister, Rebecca St. James is a Christian recording artist who is also a star in her own right. The brothers soon became a duo and developed their own sound and released their debut EP "A Tale of Two Towns". Soon afterward, they were signed-up by a major record label, which released the "For King & Country: The EP" in 2011, featuring the single "Busted Heart (Hold On To Me)" which charted at No. 3 on the Billboard's Christian Songs Chart. In 2012, "Crave", their full-length debut earned praise from music critics, charted at No. 4 on the Billboard Christian Albums Chart, and yielded a growing and loyal fanbase in no time. Their sophomore album "Run Wild. Live Free. Love Strong" spawned the singles "Fix My Eyes" and "Shoulders", which bagged the Grammy Award for Best Contemporary Christian Music Album. The band also won the Grammy for Best Contemporary Christian Music Performance/Song for their contribution to the Lacrae track "Messengers" taken from his album "Anomaly".
For a band who has transcended the bounds of genre and religious beliefs, For King and Country is a must-see, must-experience for any music fan. Don't miss it!