Concord Pavilion | Concord, California
Rock lovers, eat your heart out.. that's right, the rumours are indeed true! Heart are embarking across North America on their groundbreaking 2019 tour to celebrate their long-standing career in music! Joining them for their special dates for support will be Joan Jett and the Blackhearts & Elle King! This unmissable concert won't hang about for long so be sure to grab those tickets and head on down to Concord Pavilion on Friday 6th September 2019!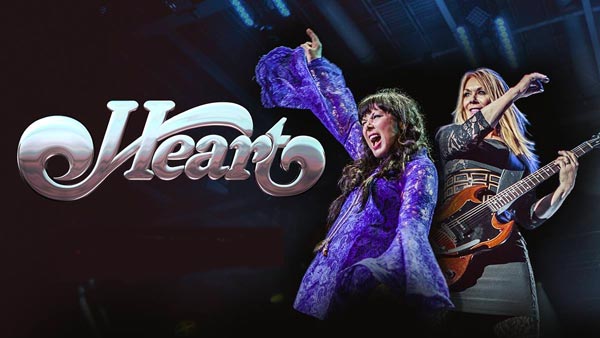 Heart are one of the most successful female fronted Rock groups of all time.
With Ann Wilson (lead vocals, flute and guitar) and Nancy Wilson (guitar, mandolin and vocals). These powerful women have performed all around the world, across the stages and during the mid-1970s took over the globe with their hard rock and heavy metal infusion. Their sensational music has had fans traveling miles just to see them live. As they broke down the barriers throughout their career and pushed their limitations to the maximum and beyond – Heart rose to fame during the mid 1970's and stayed at the top of their game in the 1980's with their turn towards writing more ballad style songs. And once again in the 1990's, Heart continued to create and craft their rock infused songs!
It's no wonder that their successful career has stretched across their performances, ratings, reviews, radio play and album/single recordings. To date, Heart have sold over 35 million records around the world, 22.5 million album sales in the US alone and of course rightly received their induction into the Rock and Roll Hall of Fame!
If you love feel good, emotional rock music then this is the concert for you, Heart are taking to the road for an unstoppable tour it's true! But this opportunity to see them live might not come around again, with five decades of chart topping hits under their belts – it's bound to be a night to remember!
"Ann Wilson ranks among the premier female rock vocalists of all time and this performance only serves to cement her reputation as she easily transitions from delicate early classics like "Dreamboat Annie" to power ballads such as "These Dreams" into scorching rockers like "Crazy on You.."