Concord Pavilion | Concord, California
The hot-ticket-warning-sign has been flashed! A musical heatwave is set to hit the area on Sunday 1st September 2019 as an R&B all-star line-up has been gathered for the sixth annual Hot Summer Night 2019 at the Concord Pavilion. Not one, not two, not three, but eight Westcoast R&B stalwarts are in! Blackstreet, Ginuwine, SWV, Guy, Dru Hill, 112 & 702 are raring to take centerstage and bring in the heat with their sizzling hits and pulse-pounding repertoire. Truly a night to remember. Don't let it slip away, book your tickets now!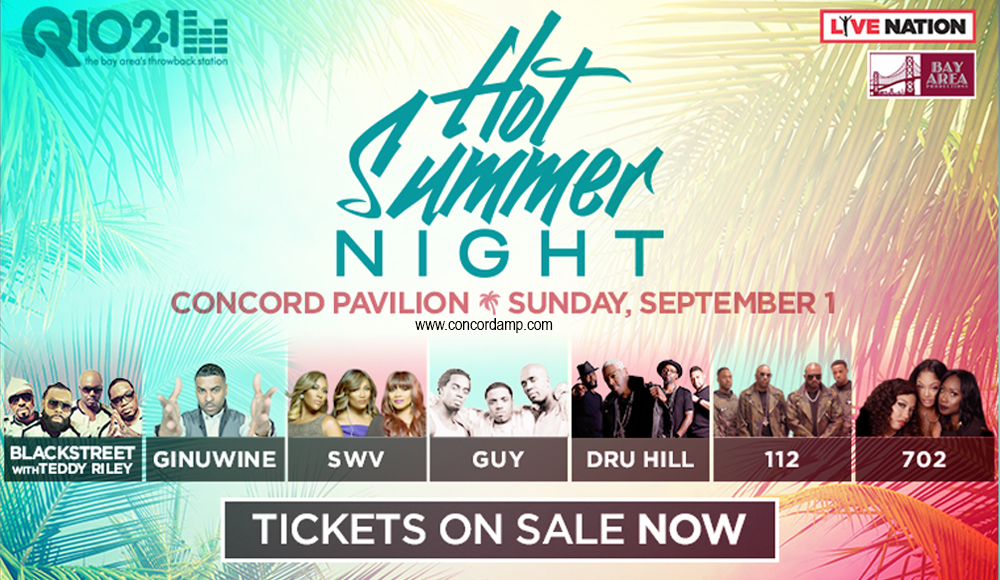 What's the soundtrack of your summer? Here's one event that's meant not only to fill your summer playlist, but one that would truly turn up the heat and pump up the volume to complete your summer concert experience. Hot Summer Night 2019, featuring Blackstreet, Ginuwine, SWV, Guy, Dru Hill, 112 & 702. Phew! That all-star R&B line-up is enough to make you hyperventilate.
Blackstreet has got the whole world groovin' with their massive hit"No Diggity". Now hailed as a rap classic, this single alone brought Blackstreet to the world map and also scooped-up a Grammy Award in between, making them one of America's R&B hip hop heavyweight groups.
SWV or Sisters with Voices was one of the leading R&B girl groups in the 90s. They conquered the world and their music has gone beyond being trendy. Their gold/platinum-selling singles as "Weak," "I'm So Into You" and "You're the One" are now timeless classics. Their debut album, 1992's "It's About Time," was certified triple platinum.
Along with the pop-trendy boy band explosion in the 90s, 112 set themselves apart with their slick stylings and distintive vocal harmonies. Their sophomore and best-selling album 'Room 112' peaked at #37 on the US Billboard Charts and has sold over two million copies in the States achieving double platinum mark. And the single 'Love Me' was certified gold.
Now it's time to bask in the summer heat. Book your tickets now!