Concord Pavilion | Concord, California
Hot Summer Night: Boyz II Men, En Vogue, K-Ci and JoJo & Ginuwine comes to Concord Pavilion on Sunday 4th September 2016
Boyz II Men. En Vogue. K-Ci and JoJo. Ginuwine. Reading these names alone could make you break out in sweat. Indeed, they're all hot! Catch these R&B, soul, new jack swing icons dish out their heart-rending, emotionally-charged ballads and a cappella harmonies in KBLX's Hot Summer Night 2016. They'll set your hearts on fire as they deliver the grooves that can give you some hot flashes and make you weak on the knees. But wait! Be on your toes first and run for those precious tickets that are definitely moving fast by the minute. Go, get your tickets now!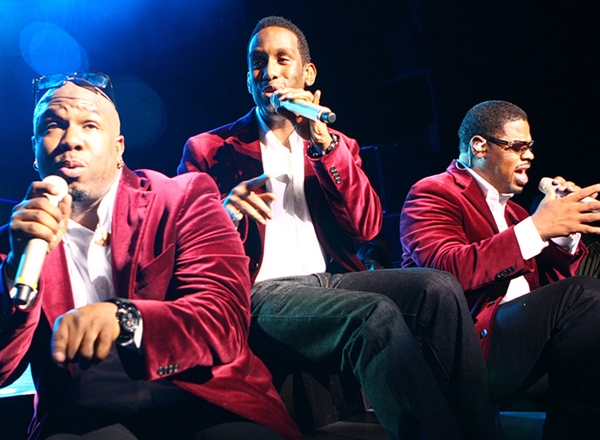 Boyz II Men swears they'll make love to you..and they have kept the lovin' feeling burning with their everlasting hits: "End of the Road", "I'll Make Love to You", "One Sweet Day" (with Mariah Carey), "On Bended Knee" , and many more. These hit songs alone are enough to speak of the magnitude of influence and impact this group has created on a global scale.
En Vogue is an R&B/Pop vocal group who reached number two on the US Hot 100 with the single "Hold On", followed by more top ten hits like "My Lovin' (You're Never Gonna Get It)","Giving Him Something He Can Feel" and "Free Your Mind". En Vogue has sold more than 20 million records worldwide to date, and are ranked as the 18th most successful artist/band of the 1990s by Billboard magazine.
K-Ci & Jojo is an American R&B duo composed of blood brothers Cedric "K-Ci" Hailey and Joel "JoJo" Hailey. They were once lead members of the R&B group Jodeci. The duo has had their share of chart-toppers, but it was the lush ballad "All My Life" that propelled them to the dizzying heights of success. "All My Life" was the number-one song on the Hot 100 for three weeks in the year 1997.
Elgin Baylor Lumpkin or Ginuwine, is an American singer, songwriter, dancer and actor. He has a phenomenal track record of multi-platinum and platinum-selling albums and singles which include his greatest hits: "Differences" ""Two Reasons I Cry".