Concord Pavilion | Concord, California
It's that time of year again – that's right, the KBLX Stone Soul Concert returns in 2018 with a massive 2-day star-studded lineup, with the first day featuring Kenny Babyface Edmonds, Joe, Musiq Soulchild, Leela James, Ro James and Stokley! It's all starting at the Concord Pavilion on Saturday 26th May 2018 – make sure you're there!! Grab your tickets NOW while stocks last!!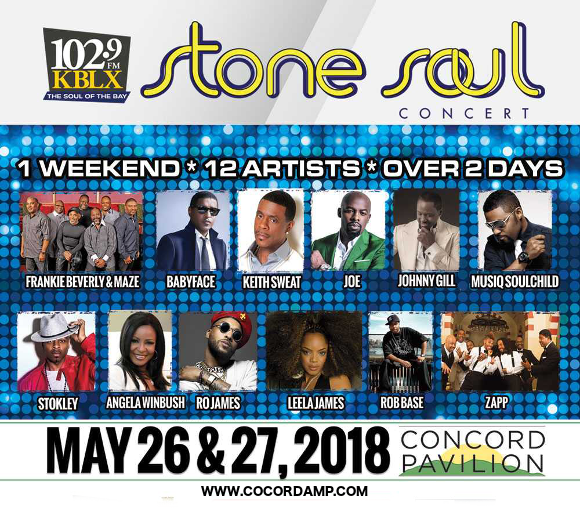 2018 is the 21st year for the annual KBLX Stone Soul concert, featuring an incredible 12 artists over 2 days!! The lineup for May 26 includes Kenny Babyface Edmonds, Leela James, Joe, Ro James, and Stokley. Babyface is an incredible 11-time Grammy Award winner, with 26 number one hits in the span of his career! Singer Leela James is known for her deep, gritty vocal style, drawing comparisons to the likes of Aretha Franklin and Tina Turner. Joe will be playing songs from his latest album, 2016's "My Name Is Joe Thomas". The genre-blending master of funk, blues, gospel mixed with hip-hop that is Taalib Johnson will be playing hits from his Platinum-selling repertoire. Ro James is best known for his charting single "Permission", and will be performing songs from his album "Eldorado," with maybe some surprises too! Last but certainly not least, it's Stokley Williams, formerly of Prince's band The Revolution!!
It's going to be an amazing night – don't miss out!! Grab your tickets NOW while they last!!