Toyota Pavilion At Concord | Concord, California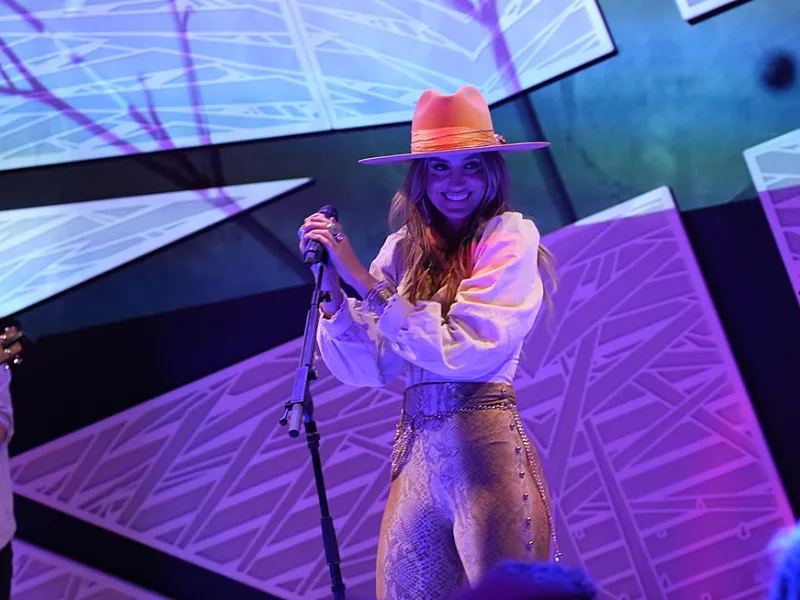 Brace yourself for a Saturday concert hoe-down on August 24 as Lainey Wilson takes over the Concord Pavilion with special guests Jackson Dean and Zach Top! Our acoustic cowgirl first broke into mainstream popularity with her third studio album, Redneck Hollywood, which featured the platinum single "Things a Man Oughta Know." Several awards later, Lainey Wilson stands as one of country music's next-gen legends. She made quite a ruckus in the latest Academy of Country Music Awards with her fourth album, Bell Bottom Country, clinching four wins, including Female Artist and Album of the Year. The album's "Heart Like a Truck" single peaked second in the Billboard Country Airplay chart, while the "Watermelon Moonshine" viral hit claimed a three-week streak at number one. This year, Lainey Wilson aims for 37 North American cities with her "Country's Cool Again" tour, including a California visit at the spectacularly staged Concord Pavilion. Don't dilly dally - book your tickets ASAP!
Celebrating the success of her latest musical forays, Lainey Wilson marks 37 cities for her "Country's Cool Again" tour. The North American trip will feature must-see guest artists, covering half a calendar's worth of shows. During her California entrance, the songwriter will perform on Saturday, August 24, at the Concord Pavilion, a 12,500-capacity outdoor amphitheater. Surrounded by sprawling grass fields and hill regions, this top-rated venue offers the perfect stage for Wilson's easy-going country melodies, with finely tuned acoustics and friendly on-site staff to take your concert experience to the next level!
"Nothing gets me buzzin' like putting on a show and singing along with the crowd. I want to give a big thank you to all of the fans who have continuously showed up and showed out this year," the 2023 Billboard Women in Music Rulebreaker Award winner shared in a statement.
A wide-brimmed wanderer. A silky Southern inflection. And a heart-melting gaze. Lainey Wilson is shaping up to be the next BIG star in the country scene with her pop-rock-styled musical musings. Her breakout success in 2020 saw the launch of her iconic "Things a Man Oughta Know" single from her Redneck Hollywood EP, which topped the Billboard Country Airplay chart—a record first from a female artist in the genre. Three years later, she does it again with her fourth album's hit single, "Watermelon Moonshine," plus a second-place follow-up with "Heart Like a Truck." Wilson stole the spotlight in the recently concluded awards season, clinching four Academy of Country Music Award wins, which include Best Album of the Year for Bell Bottom Country, and NINE nominations from the Country Music Association Awards.
Here's the setlist from one of Wilson's recent performances for a potential glimpse of the upcoming shows.
Hold My Halo
Things a Man Oughta Know
Atta Girl
Save Me
Hillbilly Hippie
Smell Like Smoke
Watermelon Moonshine (Strawberry Wine chorus)
Wildflowers and Wild Horses
Heart Like a Truck
As for our special guests, Jackson Dean is the ACM Award-nominated country music crooner best known for charting singles, "Don't Come Lookin'" and "Fearless (The Echo)." Zach Top, on the other hand, is an up-and-coming Texas jukebox traditionalist who recently made waves with the bluegrass smash hit "Like It Ain't No Thing" and "Cold Beer & Country Music."
Grab some friends and dance along with fellow fans at Lainey Wilson's Concord Pavilion live show on Saturday, August 24, 2024. Tickets are selling out - get yours soon!