Concord Pavilion | Concord, California
EVENT RESCHEDULED TO THURSDAY 2ND SEPTEMBER 2021. Originally Friday 1st August 2020. All original tickets are still valid!
Every once is a while there comes a tour that will go down in history, and this year, it's coming to Concord Pavilion on Thursday 2nd September 2021! Metal fans unite as thrash gods Megadeth and groove metal giants Lamb of God bring their gargantuan double-biller tour to the stage! This marks Megadeth's triumphant return to touring after frontman Dave Mustaine's battle with cancer, and Lamb of God's first new music in five years! Not only will you get a headline set from both bands, but they have special guest support in the form of Trivium and In Flames!
"Hello me! I'm back again, better than ever and coming to a town near you with Lamb of God, Trivium and In Flames," Mustaine said in a press release. "If you want high-octane metal madness, this is the tour for you."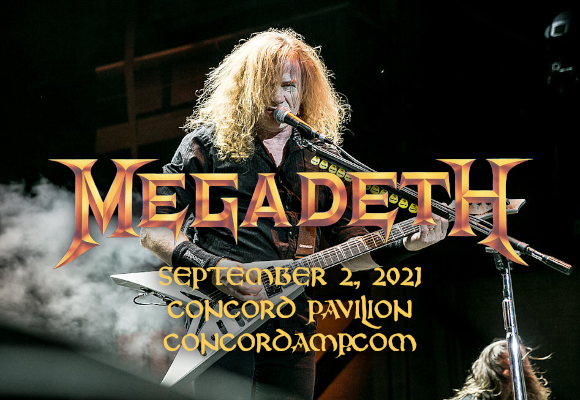 When the thrash metal soundwave hit in the 1980s, the landscape of heavy music was changed forever. One of the big four bands responsible for this musical revolution (alongside Metallica, Anthrax, and Slayer) was Megadeth. The band's frontman and founding member, Dave Mustaine, was previously the lead guitarist for Metallica, and started Megadeth in 1983 upon leaving his former group. In 1985, the band made its debut with Killing Is My Business… and Business Is Good!, leading to a major-label deal with Capitol Records. Peace Sells… but Who's Buying?, the group's first major-label album, was the first of five platinum-selling albums for the band, including their hugely influencial 1992 album Countdown to Extinction. Countdown to Extinction reached number two on the Billboard 200 and spawned the singles "Symphony of Destruction", "Sweating Bullets", and "Skin o' My Teeth." Megadeth has released fifteen studio albums to date, selling over 38 million records worldwide. In 2017, the band won its first Grammy Award of 12 nominations, winning for Best Metal Performance with the song "Dystopia."