Concord Pavilion | Concord, California
The rumours have been confirmed to be true! That's right, the legendary Hiphop artist, SNOOP DOGG is hitting the road for Spring 2017 and will be heading across North America to bring nothing but his biggest hits to the stage!
As many will know, Snoop Dogg's live shows aren't just performances but a real party as he'll have the crowd singing back and forth and getting on down to the funky beats. Be sure to catch Snoop Dogg as he brings all of this and more to Concord Pavilion on Sunday 16th April 2017! Tickets are on sale NOW!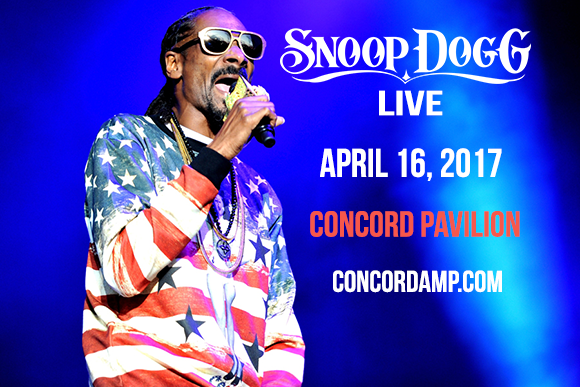 Snoop Dogg needs no introduction as one of the biggest names on the Hiphop scene but also across the music scene as his legendary career has spanned over the last 20 years! From the word go, Snoop has gained fans where-ever he goes and it's no surprise why, his charm and charisma matched with his flawless lyricist skills have had the ladies swooning since the beginning.
With album after album hitting the big time, Snoop Dogg has continued to showcase his talented songwriting abilities. He has become such a world-wide name and every artist in the R&B/Pop/Hiphop scenes wants to work with him. Snoop has collaborated with the likes of; Pharrell Williams, which he worked on 2 tracks with such as 'Drop It Like It's Hot' and 'Beautiful.' Plus Justin Timberlake, R.Kelly, Nate Dogg, Will.i.am from the Black Eyed Peas, and so many more!