Concord Pavilion | Concord, California
Lovers of Rn'B, soul, and funk, get ready for the Stone Soul Concert!! The second day of the two-day festival features massive acts including Maze and Frankie Beverly, Chaka Khan, After 7 & Jail and Ecstasy!! Get your tickets good and early and be there on Sunday 28th May 2017 at the Concord Pavilion!!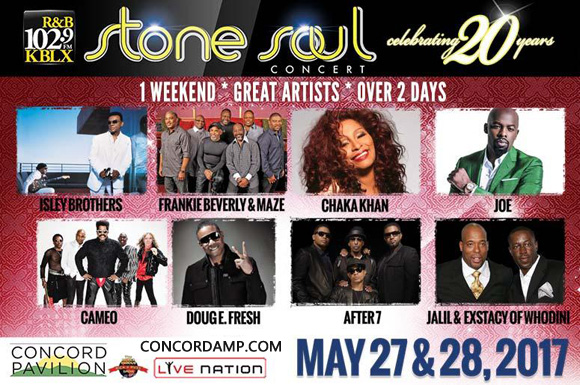 Starting out as Raw Soul in 1970, the group started out small on the Gregar label, not seeing major hits. However, that all changed when they altered the lineup, moved to San Fransisco, and met Marvin Gaye!! Performing as support for Marvin Gaye and changing their name at his suggestion, they signed with Capitol Records in 1976 and released their self-titled debut the next year. They saw multiple hit singles, their first Gold-certified record, and earned a loyal fan following, and success that continues to this day!!
Alongside Maze we have the incredible Chaka Khan! Originally the frontwoman of funk band Rufus, she has in the course of her solo career earned three gold singles, three gold albums, and one platinum album, "I Feel For You"! With a career spanning five decades, Chaka Khan has sold over 70 million records across the world, won 10 Grammys and earned the title of reigning Queen Of Funk. She was nominated for an induction into the Rock and Roll Hall of Fame for the second time in 2015, having previously been nominated as a member of Rufus in 2017. As if that wasn't enough, After 7 & Jail and Ecstacy will get you moving and in the groove in preparation for these massive headliners. What are you waiting for?? Get your tickets to the Stone Soul Concert: Sunday TODAY!!!