Concord Pavilion | Concord, California
Fans of soul, funk and Rn'B, the ultimate two-day festival is coming to The Concord Pavillion. That's right, it's time for the Stone Soul Concert, featuring The Isley Brothers, Joe, Cameo & Doug E. Fresh for Saturday admission!! Tickets for this event will sell out fast so do NOT delay in getting yours!!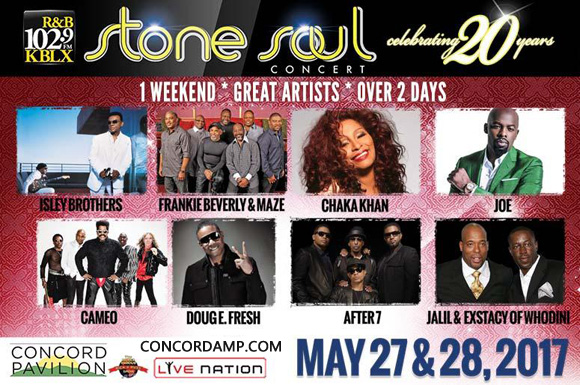 Headlining on the Saturday are the Isley Brothers. Formed in Ohio and originally consisting of brothers O'Kelly Isley, Jr., Rudolph Isley and Ronald Isley, the Isley brothers are one of the most influential and important bands in shaping the sound of popular music as we know it today! With their main influences being gospel and do-wop, the group began to bring in elements of rock, funk and pop, eventually also adding band members Ernie Isley, Marvin Isley and Chris Jasper on various instruments to turn to vocal trio into a fully-fledged band!!
Also performing on the Saturday is 6-time Grammy nominee, the phenomenal Josepth Lewis Thomas, known professionally just as Joe! Best known for his classic song "I Wanna Know," Joe is now touring with his fresh 2016 album "#MyNameIsJoeThomas". Cameo, formed in 1974, are a fantastic funk-soul group, originally 14 members strong with some of the members going on to join the huge hip hop group Outkast!! Finally, we have Doug E. Fresh. Also known as the Human Beat Box, the rapper and record producer is known for his ability to mimic drum machines and various different effects with nothing but his mouth and a microphone!!
Don't miss out – get your tickets for the Stone Soul Concert today!!