Concord Pavilion | Concord, California
It's an 80 extravaganza as three rockin' acts head to Concord Pavilion on Friday 23rd June 2017 for a night of nostalgia and non-stop hits! Catch Styx, REO Speedwagon and ex-Eagles guitarist Don Felder as part of the United We Rock Tour! This larger-than-life show will have you partying like back in the day – it's gonna be wild!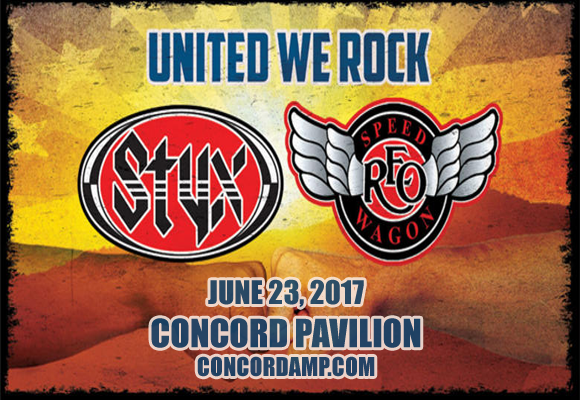 Formed in Chicago in 1972, Styx signed to Wooden Nickel Recordings that same year, finding initial fame as a prog rock band, releasing their first four stduio albums with the label: Styx (1972), Styx II (1973), The Serpent Is Rising (1973) and Man of Miracles (1974). The band's first nationwide hit was the power ballad "Lady", from Styx II, which led to the album receiving gold certification from the RIAA two years after its release. The band continued to have hits throughout the late 1970s and 1980s, and from1977 to 1983, the band had five consecutive albums certified multi-platinum by the RIAA, three of which were certified triple-platinum. They have also had 16 top 40 singles in the US throughout their career, 8 of which hit the top 10.