Concord Pavilion | Concord, California
Get ready for the show of a lifetime! On Saturday 11th August 2018, the incredible The Comedy Get Down Tour: Cedric The Entertainer, Eddie Griffin, D.L. Hughley & George Lopez will arrive at the Concord Pavilion!! Get ready for a night of the very best entertainment that money can buy! This is the show we've all been waiting for… Don't miss your chance to be a part of an event that you will never forget! Grab your tickets NOW!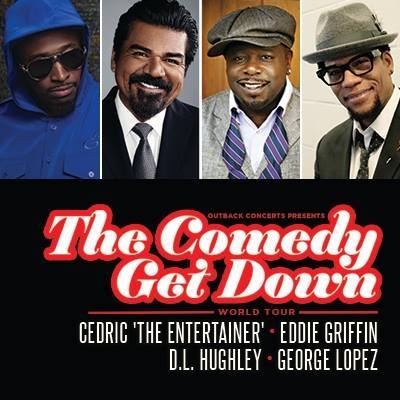 "The only moment that made a bigger impression visually was when Lopez asked the audience to hold their phones up, creating a twinkling glow throughout the space and highlighting Cedric's flashy white suit as he took the stage to Kanye West's "Can't Tell Me Nothing."
"Each of these comedians has a strong brand and a distinctive voice (built over decades in the industry) that translates well to the big stage, and while each of their sets was individualized throughout."